Xavier Kataquapit has produced "Stories Of The Cree" which is made up from a selection of his early columns which appeared in Newspapers across Canada. "Stories Of The Cree" features his writing on many different aspects of the Cree traditional life and reality. It also deals with life from a First Nation perspective and highlights issues, lifestyle, culture and politics.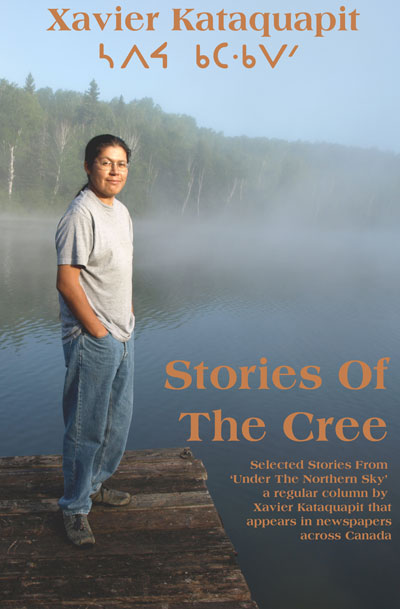 The content of "Stories Of The Cree" mainly have to do with Kataquapit's own life experiences in the remote First Nation of Attawapiskat on the shore of James Bay in Ontario, Canada. He paints vivid scenes in his description of life on the land, travelling the rivers and bay waters by freighter canoe, moving over the frozen muskeg on snowmobiles and surviving in the wilderness with the teachings of his elders.
"I consider myself very fortunate to be able to write for a living. To be able to communicate my world as a First Nation person from the remote Canadian wilderness to the rest of the world is what I consider a privilege. In a way I am the product of two realities with one rooted in the culture and traditions of the ancient ways of the Muskego Cree and the other set in the modern global world," explained Kataquapit.
"Stories Of The Cree" is all about providing a glimpse into the life of the traditional Native reality. In its pages you will be introduced to some very special elders, artists and leaders and you will learn about the real life of the Muskego Cree. You will learn about many of the traditions of the Cree on the land as you travel with Xavier, his family and friends over the vast Muskego Cree territory in all four seasons. You will follow them as they hunt and gather in tales of survival on the land.
"When I was a student I had to move to the south to attend school and I met a lot of wonderful people who helped me out in so many ways but I also discovered the stark reality of racism. I have learned over the years that racism and bigotry is the result of fear of the unknown. I get great satisfaction when I hear from those who read my work that they have learned something and feel they know more about my people and our values, traditions and way of life. I know that this often leads to more understanding, less fear and hopefully one more window of light to diminish the darkness of racism," explained Kataquapit.
Read samples from the book 'Stories Of The Cree' by Xavier Kataquapit by clicking on the links in the navigation bar above or the links below: